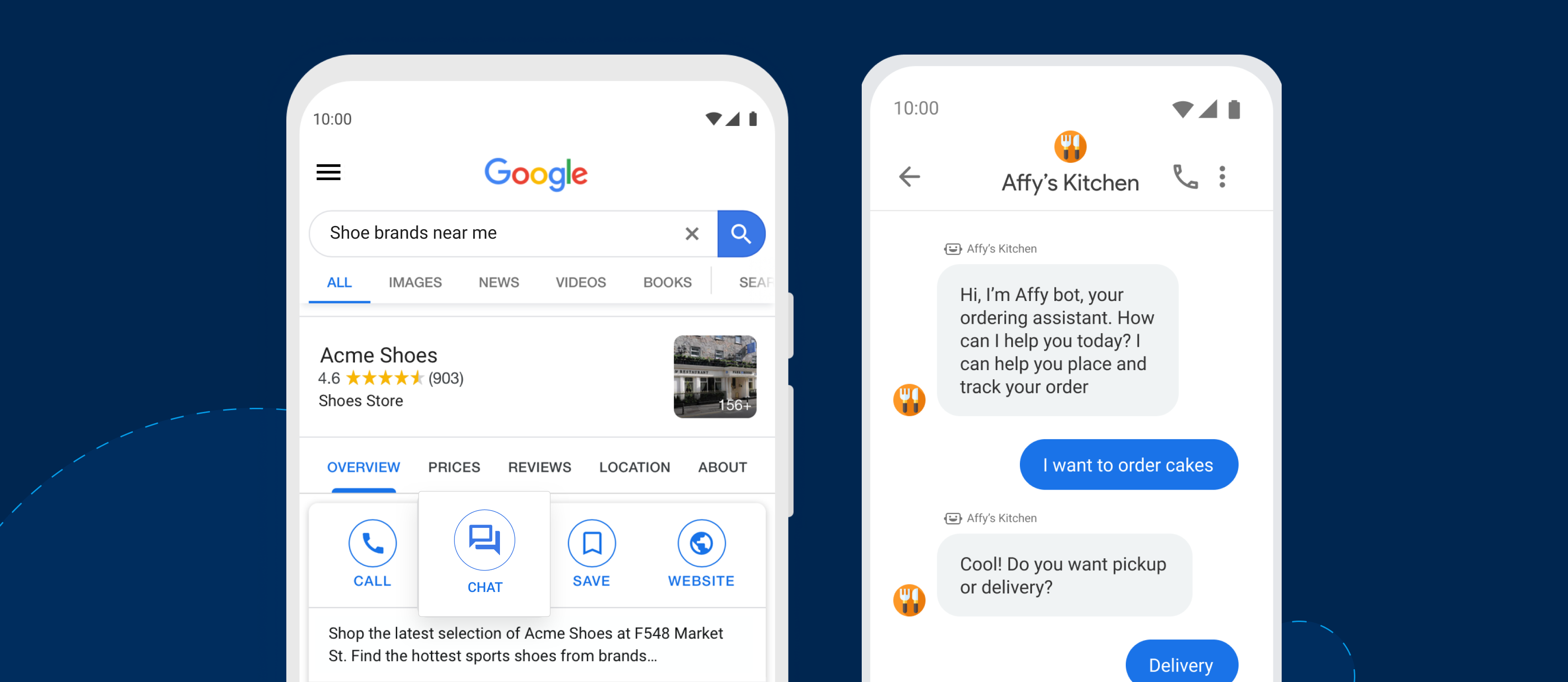 Google is the world's most visited website with over 3.5 billion searches per day. You can relate to this information because you head to Google anytime you want to learn something new or search for a product or business. About 35% of product searches start from Google.
This's the same for Maps. If you need to find the location of a business, you turn to Google Maps. Google Maps has over 1 billion monthly users, proof of how it's become a part of our daily lives.
Now, Google is offering businesses a novel way to convert this massive traffic into conversations and sales.  On Google Search and Maps, customers and prospects can chat with you, and perform services – for example, report/resolve issues, place orders, and purchase products and services. 
So, what is Google's Business Messages? and how can it help you grow your business?
10 interesting Google stats you should know
Before we define Google's Business Messages, take a quick look at these ten Google stats. They'll help you see the value of Google's Business Messages.
77% of consumers report using Google Maps when searching for nearby businesses – Brandify

74% of consumers conduct local searches at least once a week- Brandify

81% of consumers prefer to use a smartphone for local search – Brandify

76% of people who search on their smartphones for something nearby visit a business within a day – Google

28% of searches for something nearby result in a purchase – Google

'Near me' mobile searches grew by 136% YOY – Google

Mobile makes up 84% of all 'Near me' searches – Google

77% of consumers use Google 3+ times a day – Moz

46% of all Google searches are local – Google

More than 50% of global Google Maps usage is mobile – Google
What is Google's Business Messages?
Google defines Business Messages as a mobile conversational channel that combines entry points on Google Maps, Search, and brand websites to create rich, asynchronous messaging experiences that delight customers and drive business results.
Through Business Messages, your customers receive automated responses to questions, chat with live agents and complete purchases or any other tasks you've automated on the platform. This does not require an app install. Instead, an interface loads, once prospects click on the chat icon.
What's the difference between the messaging feature in Google Business Profile and Google Business Messaging?

You might confuse Google's Business Messages with Google Business Profile, a service that allows business owners to list their businesses on search and maps. Though both support messaging features, they are not the same.
The table below summarizes the differences between the two.

Google My Business helps you to manage your online profile. The essence of this service is to enable you to show up in search when people search for your business or the services you offer. They can view your store hours, call you, visit your website, get directions, and see your products and services. There's an option to enable messages which allows you to chat with your customer.
Google's Business Messages works best for businesses that already have Google My Business. It scales the messaging feature, adding advanced functionalities like a digital assistant or chatbot that provides automated answers to questions and helps them complete tasks without speaking to anyone.
In Google My Business, you have to be on hand to respond to every message. Whereas, on Google's Business Messages, customers can have continuous conversations with your brand even in your absence. This is because a digital assistant handles requests and processes orders 24/7, handing them over to a live agent at customers request or when it can't process a complex request.
When you sign up on eBanqo, prospects and customers that find your business in Google Search and Google Maps will be able to ask questions and get instant answers. They can also provide feedback, report issues, or drop messages. If customers request to chat with someone, they join a 'virtual queue' and someone in the business can with them in real-time. You can continually improve the answers to customer FAQs, and you can track who in your business responded and evaluate their interactions. We also help businesses add customized automation like Search Product Availability, Place an Order, Check Order Status, Make Reservations, Book Appointments, etc.
Google's Business Messages Features
A digital assistant: This is the major difference between Google's Business Messages and the messaging feature in Google My Business. The digital assistant has three major functions:
It provides answers to inquiries 24/7.

It also connects customers to support agents if it's unable to answer a question.

It helps customers to complete tasks and access services you've extended to the platform. Some of these tasks are:
i. Sales/Purchase: A digital assistant can help customers and prospects who're just discovering you to make every kind of purchase from groceries, meals, medication to clothes, makeup and movie tickets. 
ii. Issue resolution: On the platform, customer can resolve simple complaints on their own without speaking to a live agent. 
iii. Booking, scheduling and rescheduling: 
iv. Order Confirmation and Tracking
v. Feedback collection: Google's Business Messages is a great tool for collecting and routing feedback from customers to the right teams within your business.
vi. Find products and inventory: The digital assistant can also help customers check if a product is in stock before a store visit. It can even take it further by telling the customers the exact location of the product in your store.
2. Live chat: In addition to a digital assistant, Google's Business Messages enables you to chat with customers and prospects who found you on Search or Maps.
3. Quick replies or Chips: They're predefined responses that your customers can choose from instead of typing in their own response. Quick replies move the conversation forward and also helps you to guide the customer towards the intended outcome.
4. Carousels: Carousels help you to display your services and products. They come with call-to-action (CTA) buttons that customers click on to learn more or begin a purchase. 
5. File sharing: Just like other messaging platforms, customers can share images with you on Google's Business Messages. However, on eBanqo Messenger, you can go beyond images, and share files, videos and audios with your customers. 
Benefits of Google's Business Messages
1. Customers prefer messaging: Customers spend more time and connect with friends on messaging apps. They have the same expectation of businesses. They prefer to message a business and are more likely to buy from businesses they can message. Google's Business Messages helps you to connect with customers via their preferred medium – messaging – at the right time, which helps you to build a profitable relationship with them.
2. App fatigue. When you're available on Google's Business Messages, you offer your services on an extra channel, reducing the need/urgency to build a mobile app for your business if you don't want to. 
By extending your services beyond mobile apps, you're able to reach people who don't know about your mobile app and even those who do but are unwilling to download it.
3.
24/7 availability and customer service: People will search for products and services you offer well beyond your business owners. Deploying a digital assistant ensures that customers get quick answers to questions regardless of the times. If you operate a physical store, it means that you can sell your product and services even after your store is closed. 
24/7 availability is important because it increases customer satisfaction and also grows your revenue.
4. Ability to reach new people: Over one billion people use Google and 81% of them use it to search for products and services. Google's Business Messages' features like automated responses, Business services automation and live chat help you to stand out and easily convert these searchers who're just discovering you for the first time, faster than other businesses who aren't using it.
Getting Started with Google's Business Messages
Google's Business Messages is a great opportunity to scale your customer engagement on Google Search and Google Maps. It enables you to interact with prospects and customers who not only discover you on Search but want to learn more or buy from your business.
Interested in connecting with prospects and building a stronger connection on Google's Business Messages?