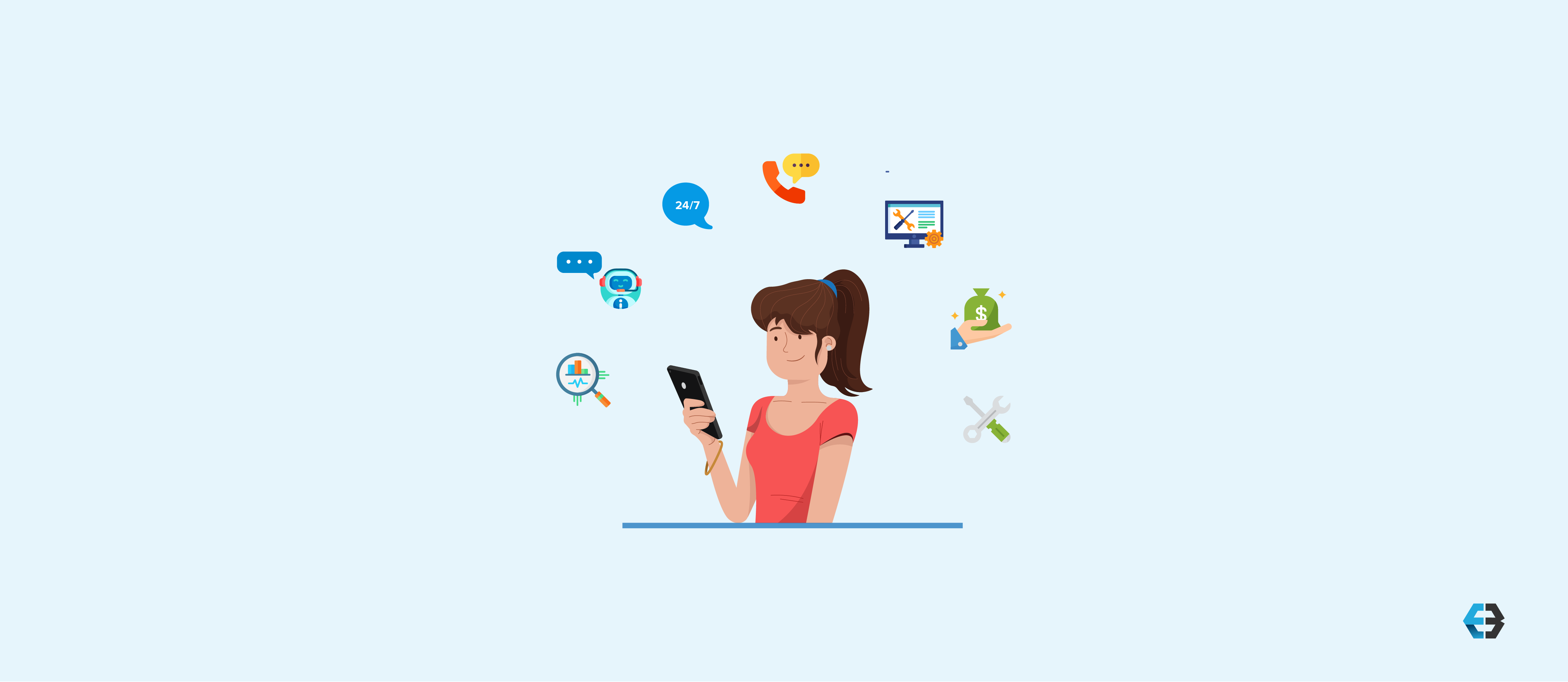 As a competitive advantage, businesses are always looking for new ways to make customer service better. They want to provide quick, efficient and convenient service, which rank high in customers' expectations. By offering customers' self-service options, businesses meet these needs. So, how important is customer self-service? And how can businesses use it to provide better customer service?
What is customer self-service
Customer self-service is similar to customer service automation. It is the process of empowering your customers with the relevant tools or technology to resolve issues on their own.
The rise of customer self-service is tied to the need to fix certain issues in customer support such as long wait time. It is equally a response to shifts in technology such as conversational AI which simplified messaging between businesses and customers. Customers' self-reliant nature and their willingness to resolve issues on their own contributed further to its rise.
How does customer self-service help your business?
Customer self-service is beneficial to you and your customers. When your customers resolve issues faster, they are happier and will continue to do business with you. And you meet and even exceed customers' expectations without incurring extra cost. Here are some of the ways customer self-service helps your business.
1. Cost reduction: A HBR article states that:  "Self-service offers companies a tantalizing opportunity to reduce spending, often drastically. The cost of a do-it-yourself transaction is measured in pennies, while the average cost of a live service interaction (phone, e-mail, or webchat) is more than $7 for a B2C company and more than $13 for a B2B company." IBM buttresses this fact, adding that chatbots, which is a growing form of self-service will reduce customer service costs by 30%.
2. Round the clock support:  One of the revolutions in customer service was providing 24/7 support. This was expensive and difficult for most businesses to sustain. But with the right customer self-service technology, your customers can get answers to questions or resolve issues regardless of the hour. Using chatbots, you can log complex issues into your CRM (if you integrated it) and your support agents can resolve them once they resume
3. Better customer experience: Customers want to solve problems on their own and they favour brands that enable them to do that. Also, they want to be able to solve their problems through various channels. Through self-service, you offer your customers options to choose from -either a knowledge base article or chatbots
How to get started with customer self-service
Self-service requires planning and understanding of the issues that customers can resolve on their own. It calls for an assessment of available technology, choosing the ones that will help your customers best. Here's how to get started with self-service.
1. Find out recurring issues that can be moved to self-service: This is the first and most important step in preparation for customer self-service. It is an analysis of all customer issues and complaints, deciding the ones that are best automated without reducing customer satisfaction
2. Select channels: After selecting the issues that customers can resolve on their own, consider the platforms that will make it easy for customers to do so. Messaging apps will be a likely choice. Through messaging apps, you make it easier for your customers to resolve issues conveniently. Prioritizing convenience increases the chances of your customers adopting your customer self-service channels. If they have to exert themselves to use your self-service channels, they won't return to it again. Here are some self-service channels worth considering:
Knowledge-base: A knowledge base is like an FAQs page. While FAQs page provides quick answers to product questions, a knowledge base is an online library comprising of longer articles. These articles contain general product information or help customers to resolve issues quickly without external help. A Knowledge base is the most popular form of self-service. Through helpful content supported by images or videos, customers can learn how to use a product better or fix issues independently.
Chatbots: While Knowledge base comprises of articles, chatbots are conversational interfaces that enable customers to communicate with you on different messaging channels like Facebook Messenger, Twitter or WhatsApp.Customers send messages and get responses in real-time. The beauty of chatbot is the automated responses, which provide on-demand help to customers at any time.  
3. Decide how to measure success: After implementing a customer self-service solution, track and measure its performance against set goals. How effective is it in helping customer resolve issues? Did it reduce your support ticket? Tracking and measuring performance exposes areas that need more optimization.
Customer self-service enables you to meet the demand for speed and convenience in customer service. You help customers to resolve issues with minimal effort and in return, you get happy and loyal customers.