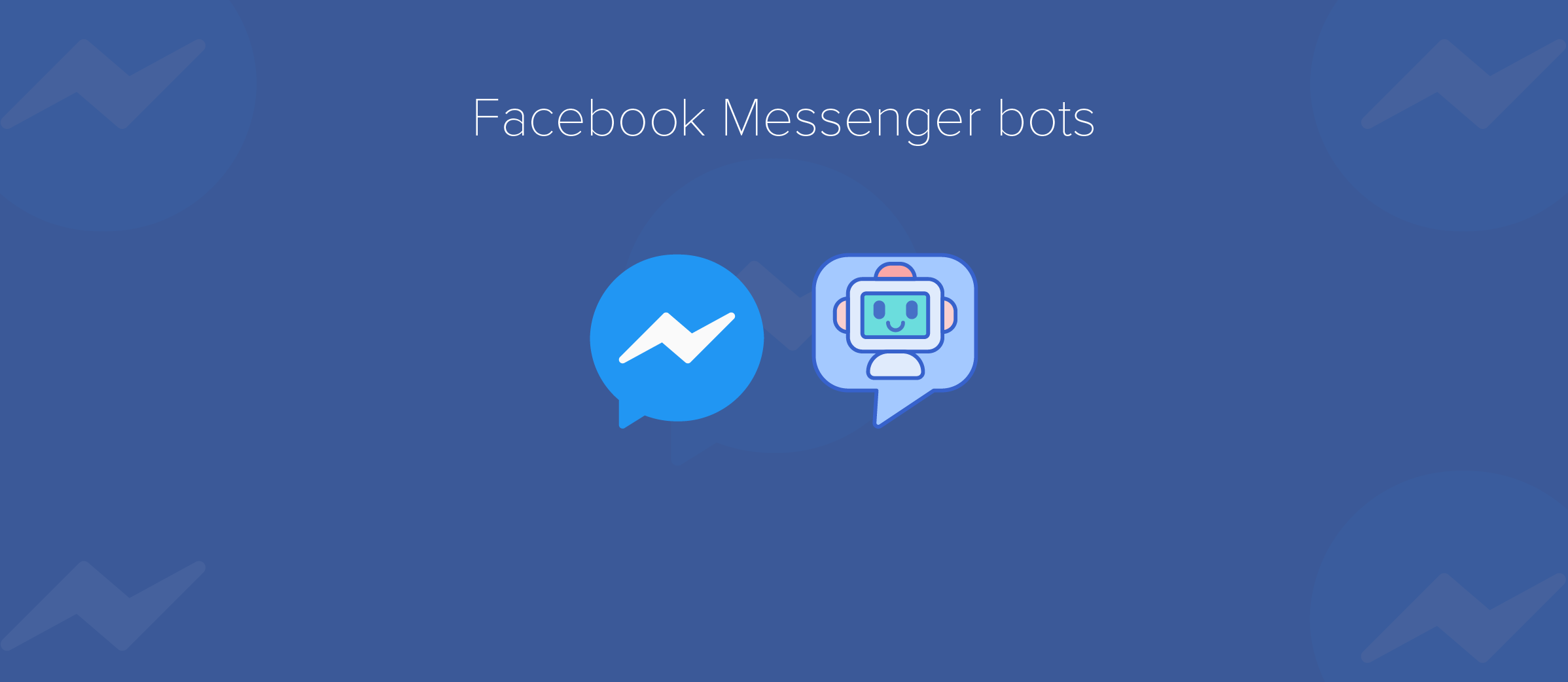 There are about 1.3 billion people who use Facebook Messenger every month. And according to Facebook, about 78% of people message a business every month. These statistics -Messenger's large users and customer's adoption and preference to messaging- show the increasing use of Facebook Messenger for businesses. 
 Facebook Messenger has evolved to accommodate changing business needs. First, it offered a basic functionality that allowed businesses to chat with their customers, schedule away messages and set quick replies.
It is also easy to set automated responses to Frequently asked questions. While these Functionalities made it easier for businesses to converse with their customers, it didn't give room for flexibility. Businesses couldn't customize the Messenger experience according to suit their business and meet the unique needs of their customers. Hence, in 2016, Facebook announced that it will open up the Messenger platform for chatbots. From that time till now, Messenger has over 300 000 active chatbots and over 8 billion messages exchanged between people and businesses.
In this article, we'll explain what a Facebook messenger chatbot is and how businesses can use them to drive business growth.
What is Facebook Messenger chatbot?
Facebook Messenger chatbot is an automated messaging software that is powered by conversational AI. Placed in  Facebook Messenger, It simulates human interaction, taking questions from customers and providing answers in return. It also completes any other task assigned to it.
It is an alternative to the traditional channels used by businesses to communicate with customers. It also enables customers to get quick answers to questions, resolve issues on their own and perform self-service on the go.
What can you use a Facebook Messenger chatbot for?
A Facebook Messenger chatbot is different from normal Messenger features available for business. Its capabilities are different and exceed that of the usual Facebook Messenger without bots.
It is custom-built to meet the unique needs of your business and permits a level of flexibility that allows you to adjust its uses to suit your brand. Here are some of the ways you can use Facebook Messenger chatbot:
1. Customer support: Chatbot provides an alternative and more efficient way to handle customer support on social media. Customer service and frequently asked questions can be automated, making it easier for customers to get quick answers to questions and to resolve issues without contacting the business.  This way, customers issues are resolved faster, leading to better customer experience and businesses have more time to attend to pressing issues that cannot be automated.
2. Sales: Messenger chatbots have proven to be good salesmen. Through light and easy conversations, they help customers make the right purchase and guide them to check out.

It is quite different from e-commerce because it offers a concierge-like service, asking customers about preferences, and making product recommendations based on those preferences.  Here, chatbots take on the role of a shop assistant, offering guidance and helping customers buy the perfect product.
3. Appointment Booking: Appointments are usually scheduled via phone calls or emails. The phone conversations and email threads take up time and effort. On Facebook Messenger, appointment scheduling is instantaneous and completed in a few steps. There is no need to contact the business.
4. Send reminders and updates: Reminders and updates are usually sent via emails, texts or phone calls. On Messenger, a business can send reminders to its customers alongside files or documents. A customer also can easily access information about orders and transactions.
5. Lead generation:  Messenger chatbot is an effective lead generation tool. It is more effective than the traditional form. Its conversational style makes customers more willing to exchange personal information. This feature is great for businesses focused on generating leads. The ease and flexibility encourage customers to seek out businesses and schedule appointment with them.
Advantages of Facebook Messenger chatbots for business
1. Large following: Facebook Messenger is an important channel for any business willing to connect with their customers. There is a ready audience, all that is left is to set up on messenger, create a messaging strategy and begin conversations.
2. Wider reach: It is another channel for businesses to diversify their services, making it easier for customers to access services from multiple channels. For businesses yet to build an app, Messenger is a worthy substitute. It offers all the services found in mobile apps and more.
3. Better customer experience: Making customer support easy, accessible and convenient increases satisfaction. Empowering customers to resolve issues on their own alongside an interactive, engaging and helpful buying process leads to better customer experience.
4. Cost savings: Providing round the clock customer service without an extra or huge investment helps businesses save cost.
How to get started with Facebook Messenger bot
1. Define your use cases: The foremost step is to define the purpose of your chatbot. What tasks or activities do you want to help your customers accomplish?
2. Design your conversation: After defining its purpose, the next step is to design the conversations that will accomplish just that. What will your chatbot say to a customer when she chooses to complete a specific task? How will the conversation guide/lead your customer to the completion of the specified task?
3. Build your chatbot: For a chatbot that provides a custom experience for your customers, you need to team up with a chatbot development team that will help you build and design the best experience for your customers.
4. Promotion: After building it, what next? Tell your customers about it. Chances are that your customers don't know that you have a Messenger bot. Even the few who know, may not know the full capabilities of your chatbot. Promote your chatbot on your website, marketing materials and encourage your customers to use it. You can even offer discounts if they use it to complete a specific task.
Another way to promote your messenger chatbot is by Messenger Advertising. Here, you can place Facebook Ads that lead directly into your Messenger. Messenger Ads are like normal Facebook Ads that appear on the timeline. The only difference is that when customers click on the Ad, they are taken to your Messenger inbox to begin a conversation with you.

As the largest messaging platform, Facebook Messenger is a reliable way for businesses to connect with their audience. Building a custom bot on the platform enables you to widen the functionalities and activities available to your customers, while effectively engaging and having helpful conversations.