Just like other social media platforms, Instagram started off as a channel for users to build a community and keep in touch with friends and family. Today, it's a primary tool for businesses to engage with and sell to their customers. There are over 25 million businesses active on Instagram and up to 375 million people use the direct messaging feature every month. With Instagram DM automation, businesses can scale Instagram marketing. Read on to find out what exactly Instagram DM automation is, and how you can use it to provide faster support and grow your sales.
What is Instagram DM automation?
On a typical day, your Instagram marketing activity doesn't just end with making a post. You respond to DMs about products, delivery, pricing and all other kinds of questions. Others may be returning customers who need support or have complaints. Another group may be people who are ready to buy and want to complete the transaction in your DM.
Managing all these efficiently is hard.  This is especially true considering that customers want immediate help and when they want to buy, their interest is so fleeting that it is important to sell to them when their interest is high. This is where Instagram DM automation comes in.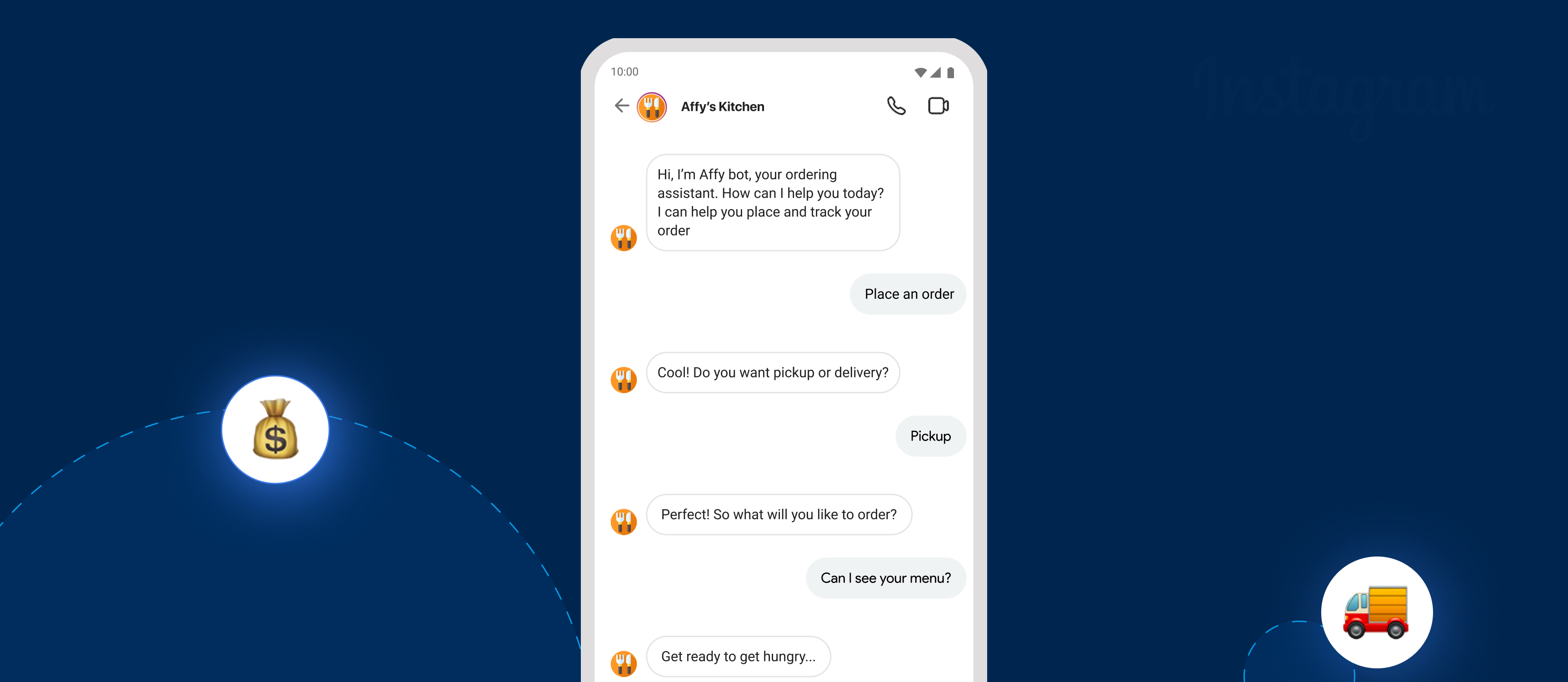 Instagram automation is similar to outsourcing the whole process of interacting with customers on your Instagram DM to a smart assistant who handles it efficiently, quickly and works 24/7. The assistant in this case is an Instagram chatbot.

Instagram Auto Message vs Instagram DM automation
Before we proceed, it is important to point out that Instagram DM automation is different from Instagram Auto Message. In the table below, we summarize the differences between the two.

What can you do with Instagram DM automation?
1. Sell your product on services: Currently, selling on Instagram (unless you're using Instagram Shops which is not available in all countries, and requires visiting the website) involves chatting with customers, manually taking their orders and fulfilling them at your end. Instagram automation takes this stress out. You can automate workflows so that customers can view available products, make purchases and payments and also provide the delivery information. Customers can do all these without interacting with you or your staff.
2. Provide answers to frequently asked questions: With Instagram DM automation, you can automate answers to frequently asked questions, giving your customers instant answers to questions. In eBanqo Messenger, you can add as many questions as you want and the AI chatbot using Natural Language Processing retrieves the right answer no matter how the question was phrased.
3. Live chat: DM automation does not take away the ability to chat directly with your customers. Your Chatbot (which automates the interaction on your DM) only handles interactions you've instructed it to, and hands over customers to you when it can't handle a request, at the customers' requests or for specific inquiries you've instructed it to. eBanqo Messenger makes it even easier to handle Instagram DMs and messages from all other platforms like WhatsApp, Facebook Messenger. It aggregates messages from all these platforms on one screen, and you can respond to them all without switching channels.
Which businesses can use Instagram DM automation?
Any business that is active on Instagram and gets a lot of DMs can use Instagram automation. If customers DM you for support, ask about products, prices or any other information Instagram DM automation gives you access to a chatbot that responds to all these instantly 24/7.
That's not all. Considering the volume of consumers who use Instagram to shop weekly, automating your DM interactions ensure that these customers can buy anytime they want without engaging with anyone.
Benefits of Instagram DM automation
1. Faster response time: Two critical factors determine the quality of customer experience. They are speed and convenience. With Instagram DM automation, you give your customers and prospects the instant answers they want
We can't emphasize enough how essential speed is. Imagine a customer finds your profile when searching for a product or service or is probably engaged with your post and wants more information. Note that at this point, their interest is high, and every minute counts. If they get an instant answer through your Instagram chatbot, they will move into the next phase of their buyers' journey. If they don't, they will move to another business who will respond faster.
2. Better Instagram Sales: If you have no plans to scale sales on social message platforms, you ought to have a rethink. Why?
83% discover new products or services
81% research products or services
54% of people surveyed say they made a purchase either in the moment or after seeing a product or service on Instagram.
Social Commerce Market to Reach US$2.9 Trillion by the Year 2026 
What's interesting is, there's a surge of first-time users (FTU) who have embraced online shopping in place of traditional shopping. An Instagram bot positions you to piggyback on this trend to grow your business.
3. Faster customer support: The easiest way to build customer loyalty is to provide "strong" customer support on social messaging apps. "Strong" here refers to fast and convenient. An Instagram chatbot is the easiest way to provide this with a minimal cost and greater ROI.
How to create or set up an Instagram Bot
Now that you've read about Instagram chatbots and its benefit, the next step is a thorough walkthrough of how to set up yours. This is really simple and you will be done in 10 minutes or less.
Before you begin, ensure that You have admin rights to the Instagram you wish to connect. Once you've confirmed this, please take the following steps:
1. Log into your eBanqo account and click on configurations. If you don't have an account, create one here
2. Select apps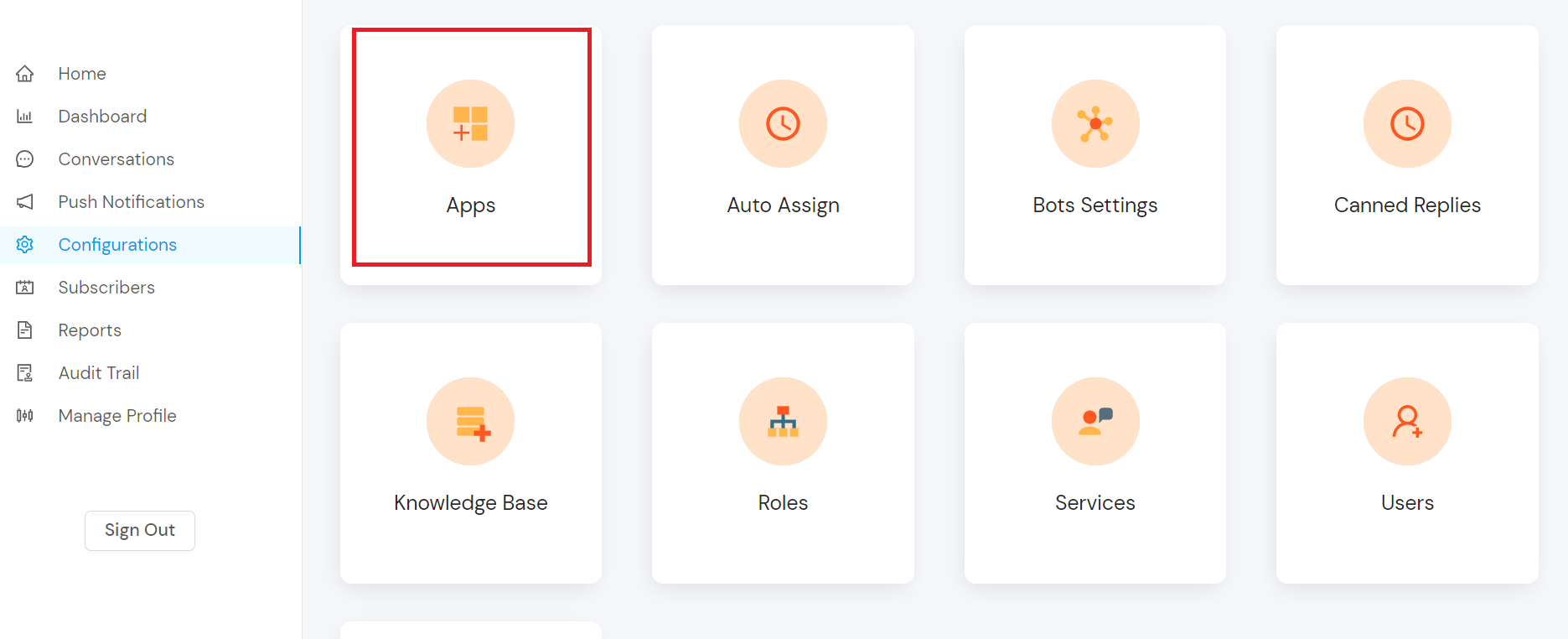 3. Click on Instagram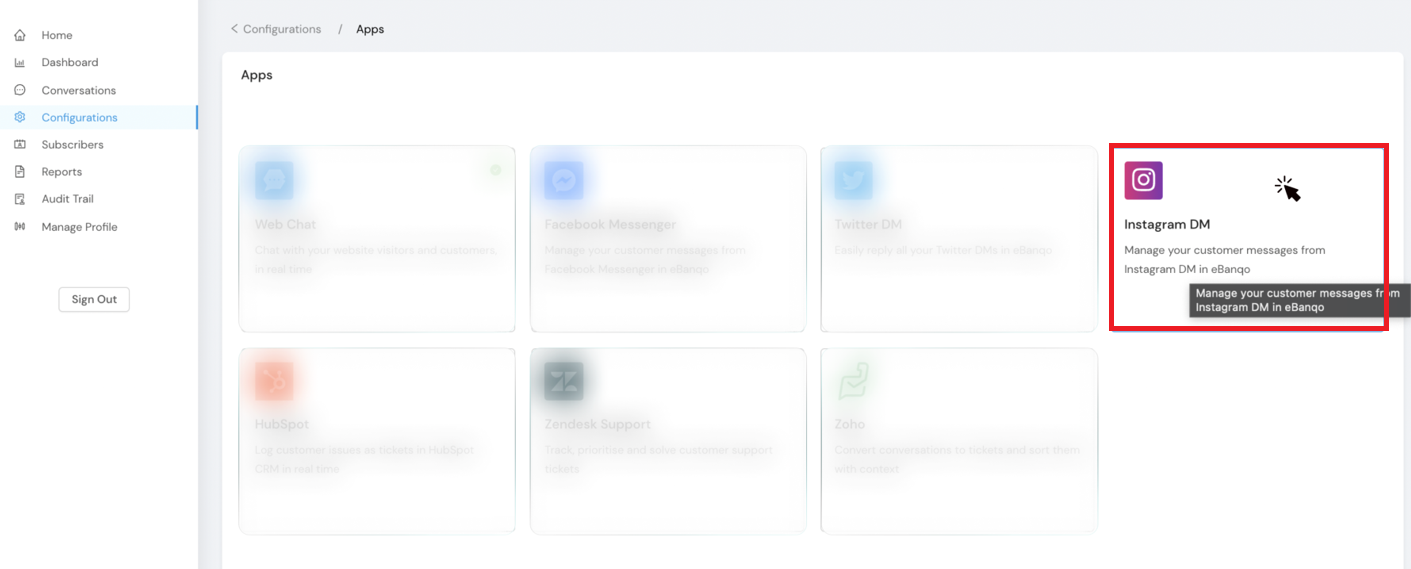 4. A modal appears like the one below appears asking you if you want to connect to Instagram. Click on connect Instagram. Note that to add Instagram, you need to have admin access to your Instagram page and it must be connected to a Facebook page.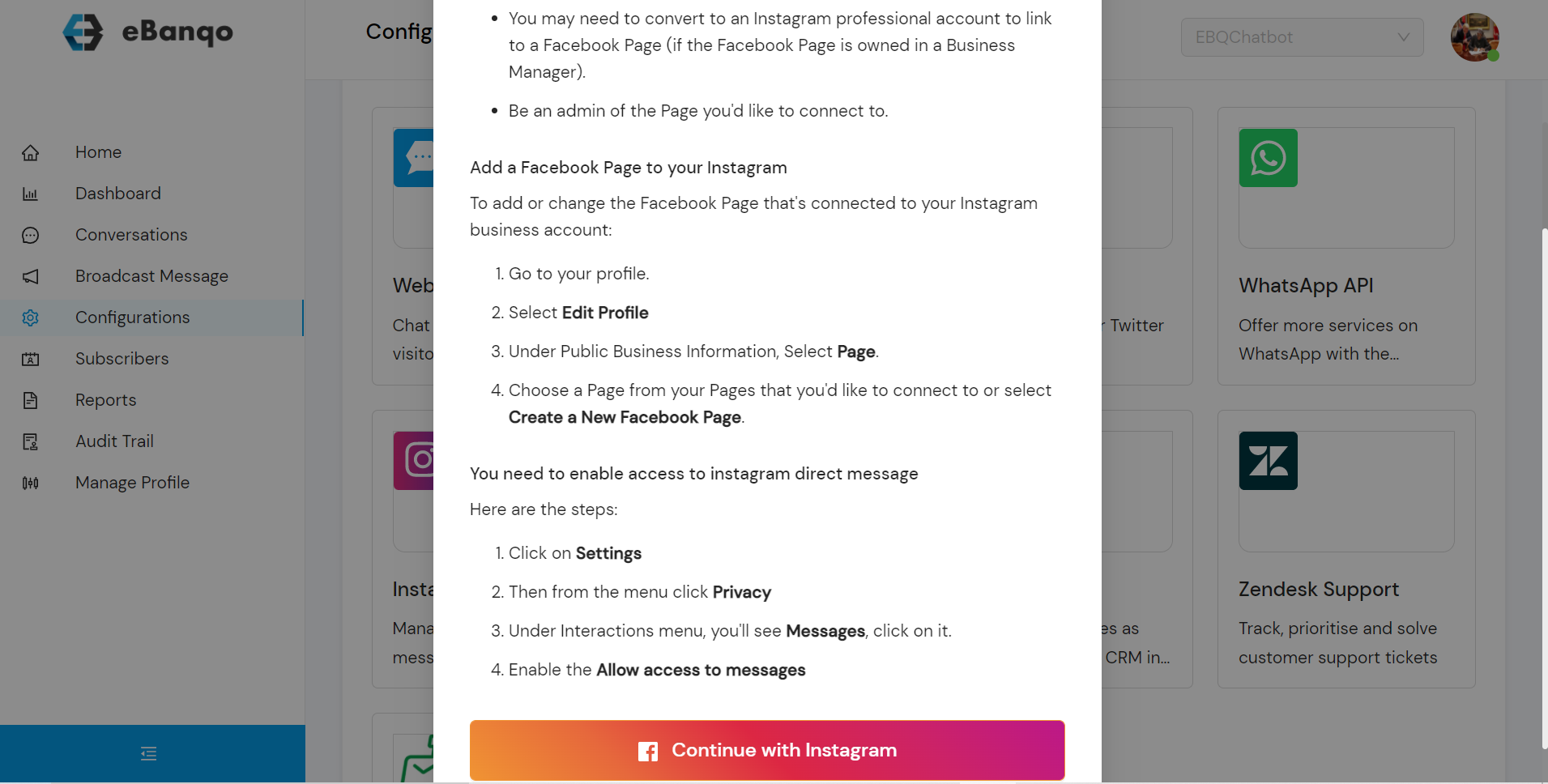 5. Next, you'll be prompted to log into Facebook. When you've done that, it will display a list of pages your account is tied to. Select the page your Instagram account is linked to.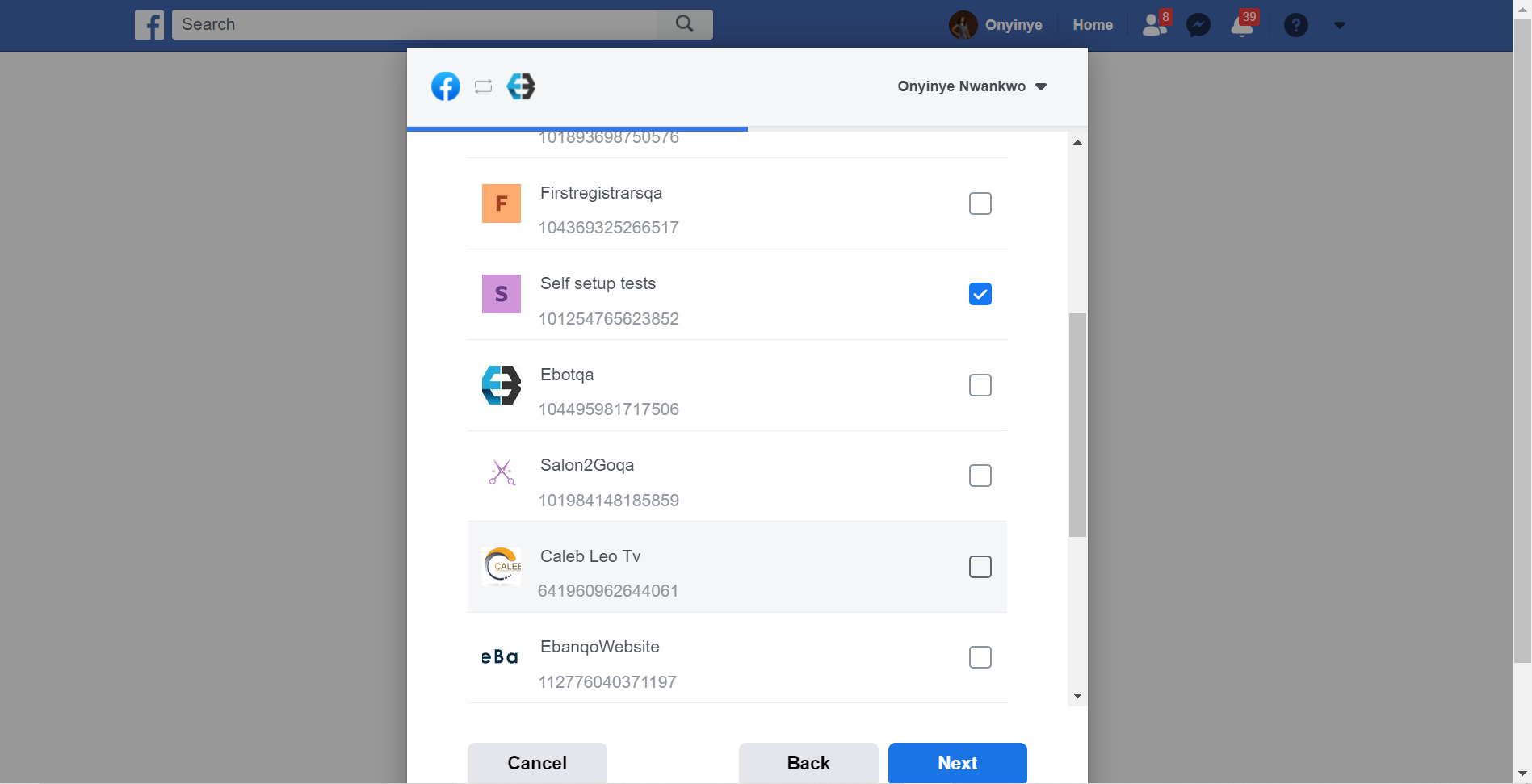 6. You'd notice that some options are already selected. It's best to leave them turned on. Then click on done.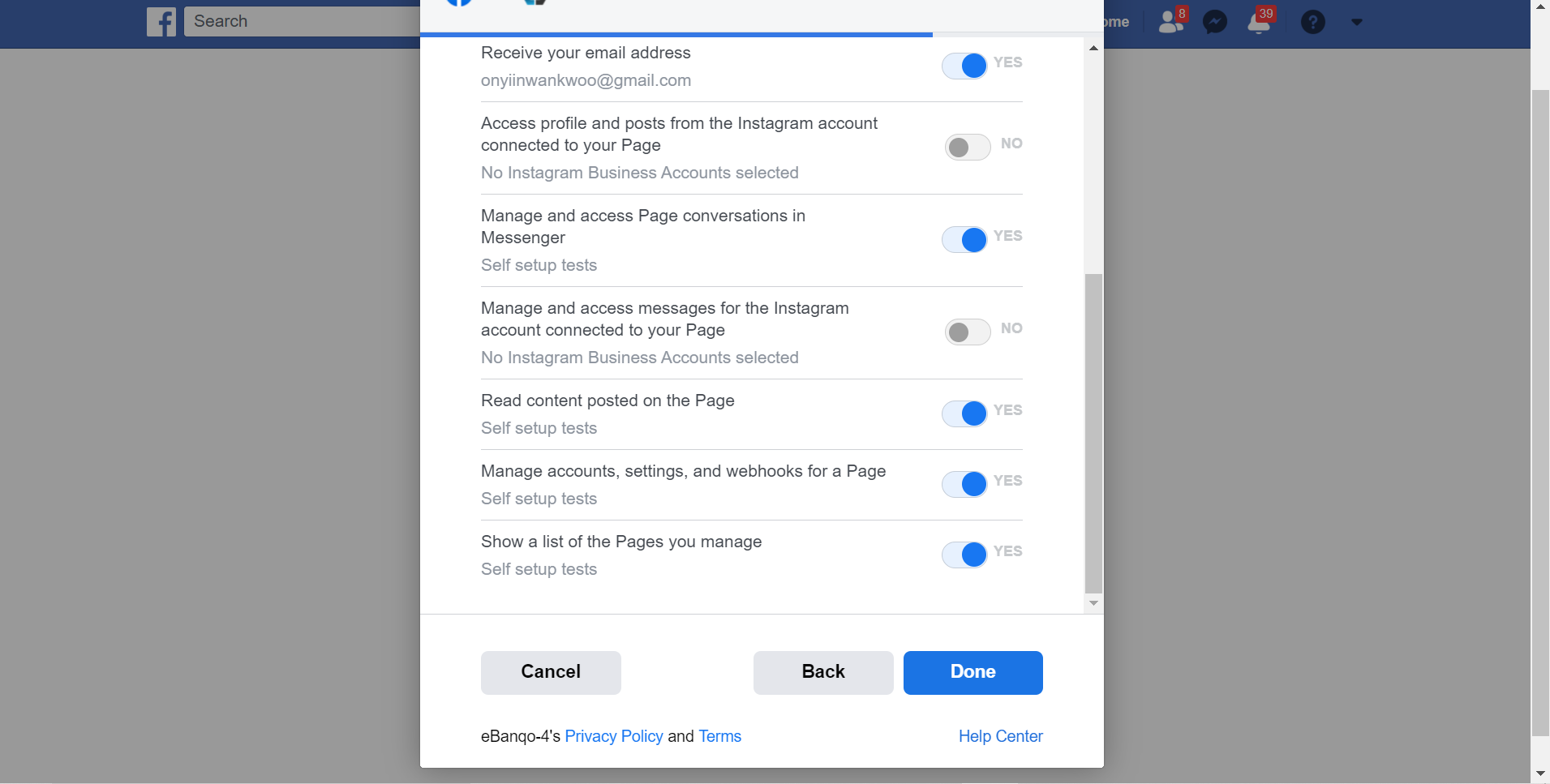 After you've connected your account, customers who DM you with questions will get a response from your chatbot. It will pass a customer over to you at their (customer's) request or if it can't answer a question.
Final Thoughts
Instagram DM automation enables you to use chatbots to scale your business on Instagram. You can automate the mundane tasks – like responding to the same questions several times as well as advanced tasks like purchases, issue resolution and other tasks specific to your business.
Check out eBanqo's Instagram DM automation. Try it for free for 30 days or use the free plan if you chat with less than 100 customers on Instagram monthly.