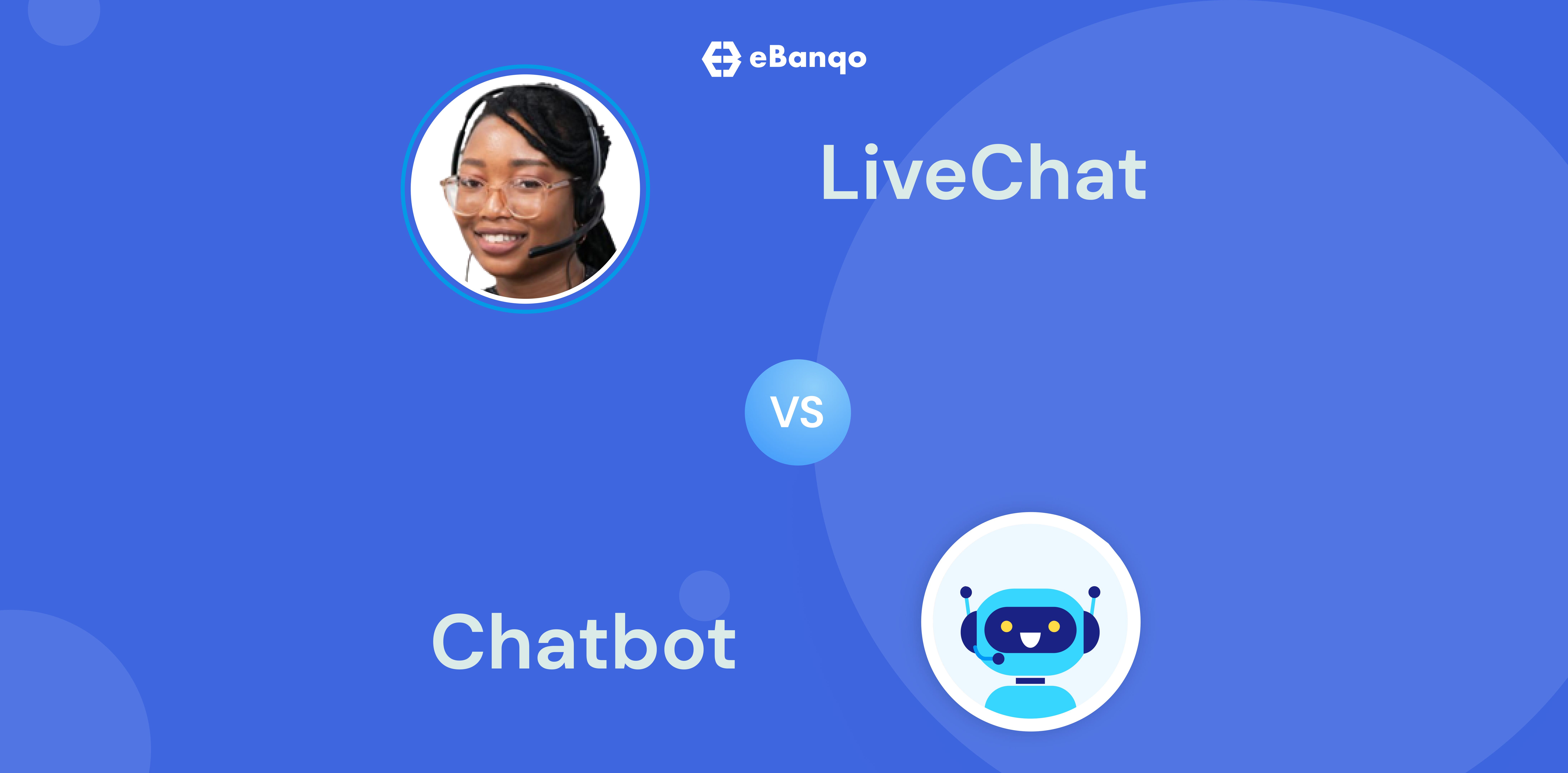 "Responsive and competent customer support is the lifeline of a thriving business" – Us at eBanqo.
Today, the world is more tech-savvy than ever. Most communications are done via chat regardless of the formality. Even customers prefer the chat system to reach out to their favorite brands.
This article answers your question about which route is best for your business. Live chat vs Chatbots?
Introduction to Live chat vs Chatbot
Live chat support allows customers to have real-time, two-way conversations with support agents. Using live chat software embedded in a company's website, customers can send their questions to a person who can quickly reply to them in the same small window. (Think customer care of your service provider 🤔).
It's highly accessible and a non-repetitive means of communication between a customer and the customer support agent.
A chatbot is a software program that emulates and processes human conversations either written or spoken, it allows humans to interact with bots as if they were in contact with a live support agent. Chatbots can be task-oriented (declarative) using basic programs that answer a customer's simple question with a single-line response.
Or it could be data-driven (conversational) like digital assistants that learn and evolve to deliver personalized messages to your customers by gathering and processing information using artificial intelligence and machine learning.
In simple terms, 21st-century technology has now made it possible to teach a machine(in this case, a chatbot) how to converse with humans. Awesome right?😉
Pros and cons – Live Chat vs Chatbot
Conversational Live Chat, however, necessitates that you be available at all times to provide support, especially during peak times. This is not only expensive, but it may also reduce the efficiency of agents who deal with customers for extended periods of time, which in turn has an indirect effect on the quality of service provided.
While chatbots are available 24 hours a day, they only deliver a limited amount of responses, which might be inconvenient for customers who require immediate assistance. Furthermore, Chatbots minimize the need for additional staffing for online engagement with customers, which is advantageous, especially if you receive several inquiries from customers at the same time. However, depending on your level of expertise, developing a chatbot is not an easy task. It takes effort, time, and skills, which might be challenging if your business is in its early stages.
According to the information presented above, the benefits of a chatbot can be utilized to mitigate the drawbacks of live chat and vice versa. This raises the question of whether or not we are required to pick one or the other. What if there was a way to make use of the advantages offered by both live chat and chatbots?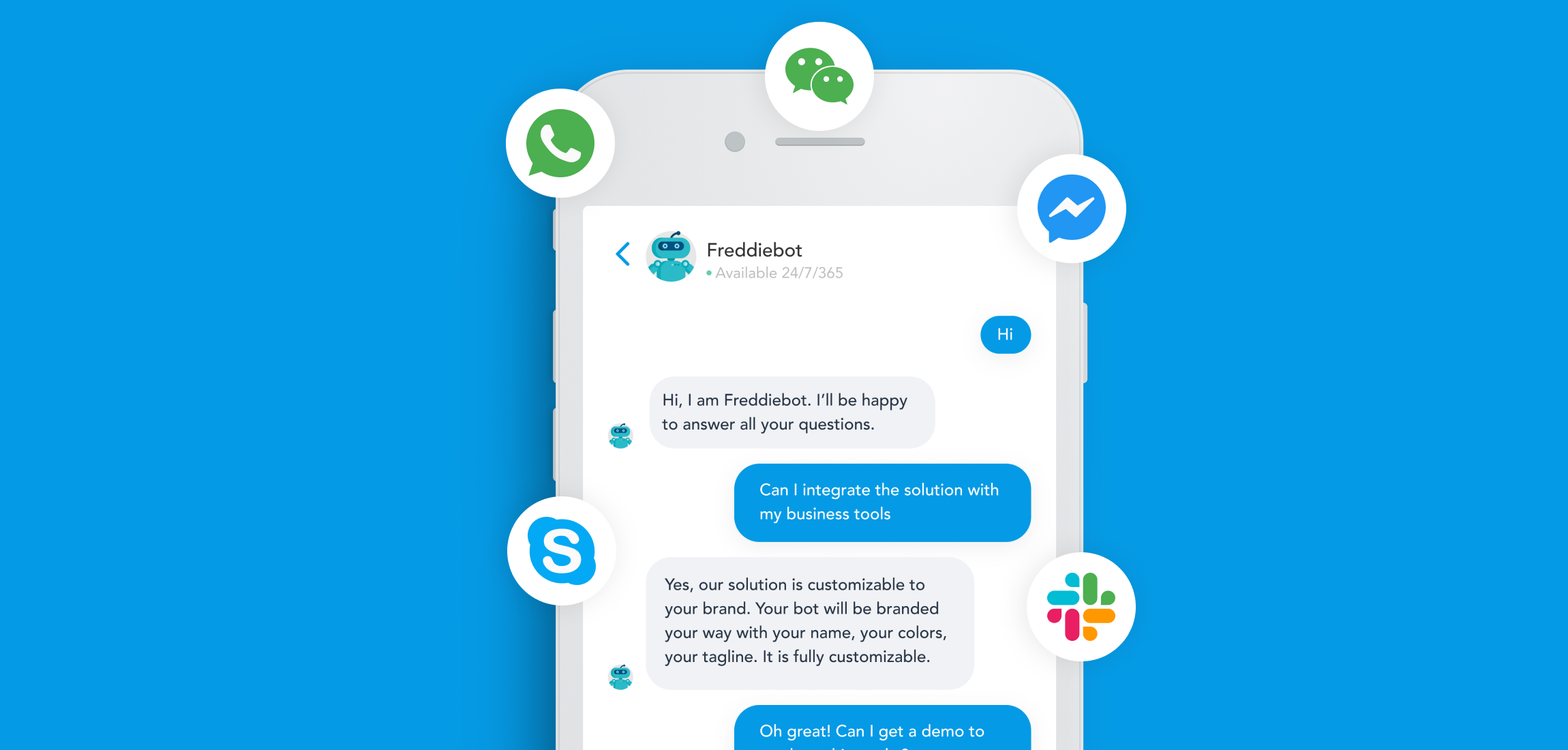 Live chat vs Chatbot: No need to choose because, both are best for your business.
Dear Entrepreneur, We've been down both roads and discovered that in today's age and fiercely competitive market, your business cannot do without the other. Here are 5 reasons why you'll agree with us:
Customer retention
People have short attention spans, and your customers are no exception. They will patronize your competitors at the slightest inconvenience. This is why you must not provide them with a reason. Both live chat and chatbots have features that not only keep customers' attention but also quickly answer their questions. When these features are combined, they have even greater customer retention power.
Cost reduction
The use of live chat support alone can be costly due to the need for a large number of staff, especially during peak hours, but the implementation of chatbots eliminates the need for that many staff during online interaction, lowering your business' manpower costs.
Increased efficiency of the customer support team
The efficiency of your customer support team can be greatly increased with a combination of live chat and chatbots. The availability of a productive support team will improve your business growth.
Overall business productivity
The use of live chat and chatbots increases business productivity by freeing up employees for other tasks. Chat services can run multiple processes at the same time, which does increase productivity. A happy workforce equals a thriving business!
Good customer returns
Customers will have a positive experience with your business if you have an easily accessible customer support network, and that positive experience will lead to happy customers. A satisfied customer tells their friends and family about their positive experience.
…
Now that you agree with us that your business needs to provide both options for your customers. (The battle of Live chat vs Chatbot is unnecessary).
Here's what eBanqo offers your business
A chance to combine the live chat and chatbot services for your customer support through
Webchat add-on for your business website (i.e customers get to directly chat with you on your website)
Google business message add-on for your Google my business profile (This is only available for mobile browsers for now)
WhatsApp chatbot add-on (your customers get a 24-hour response even when you're offline)
Instagram chatbot add-on
Twitter chatbot add-on
Facebook chatbot add-on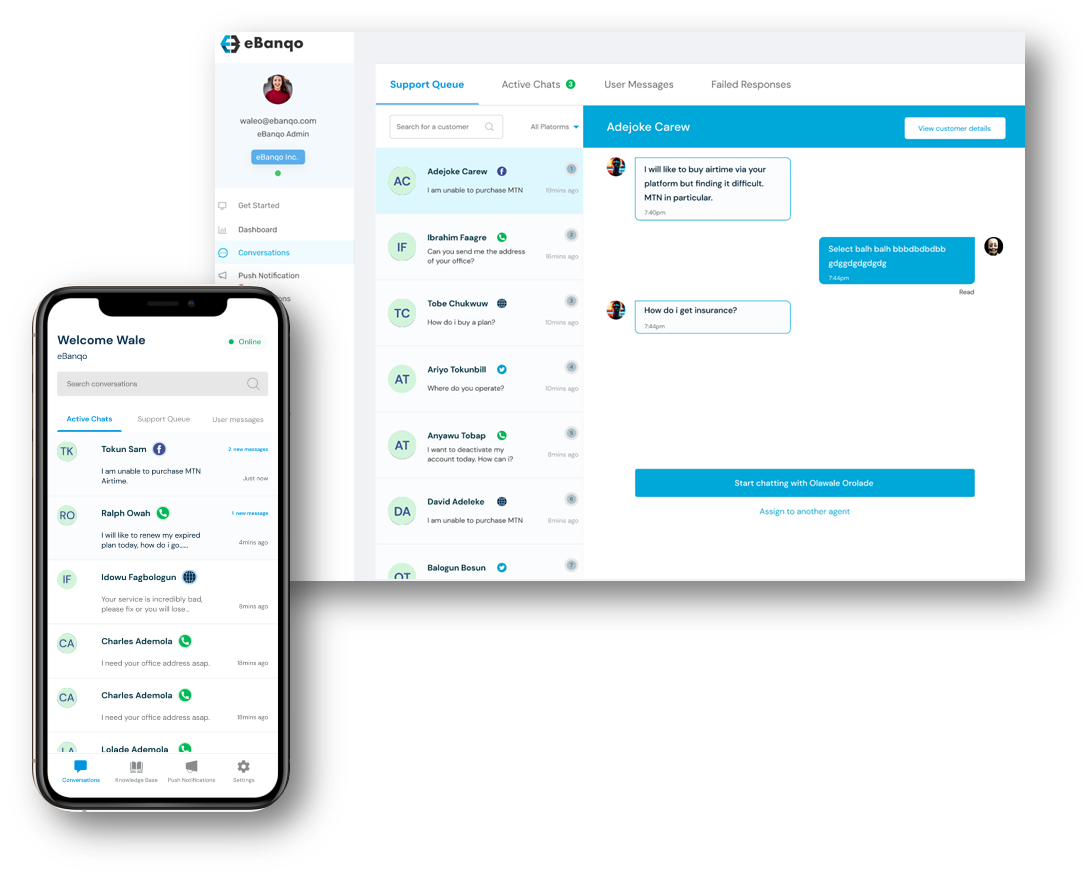 How does eBanqo's integration work
Depending on the precise package you choose, when your business' website or social media account is integrated into our system, you immediately have a chatbot that is always on call to promptly answer your customers(old or new) on any channel
When a customer sends a message, the chatbot receives it first and if it's incapable of providing a solution, a seamless transition takes place to your live chat agent. Your customers can benefit from the best of both worlds in this way.
Additionally, FAQs can be integrated and customized to your business requirements. The chatbot uses these FAQs to respond to customers' questions in the same way that you would have. The issue of repetitive questions is solved this way.
Conclusion
Many benefits await your business on the either side of eBanqo's chat integration.
Send us a message at hello@eBanqo.com and let's get you started!
We can't wait to have you be reachable always to customers.🙂
For read more about our offerings here