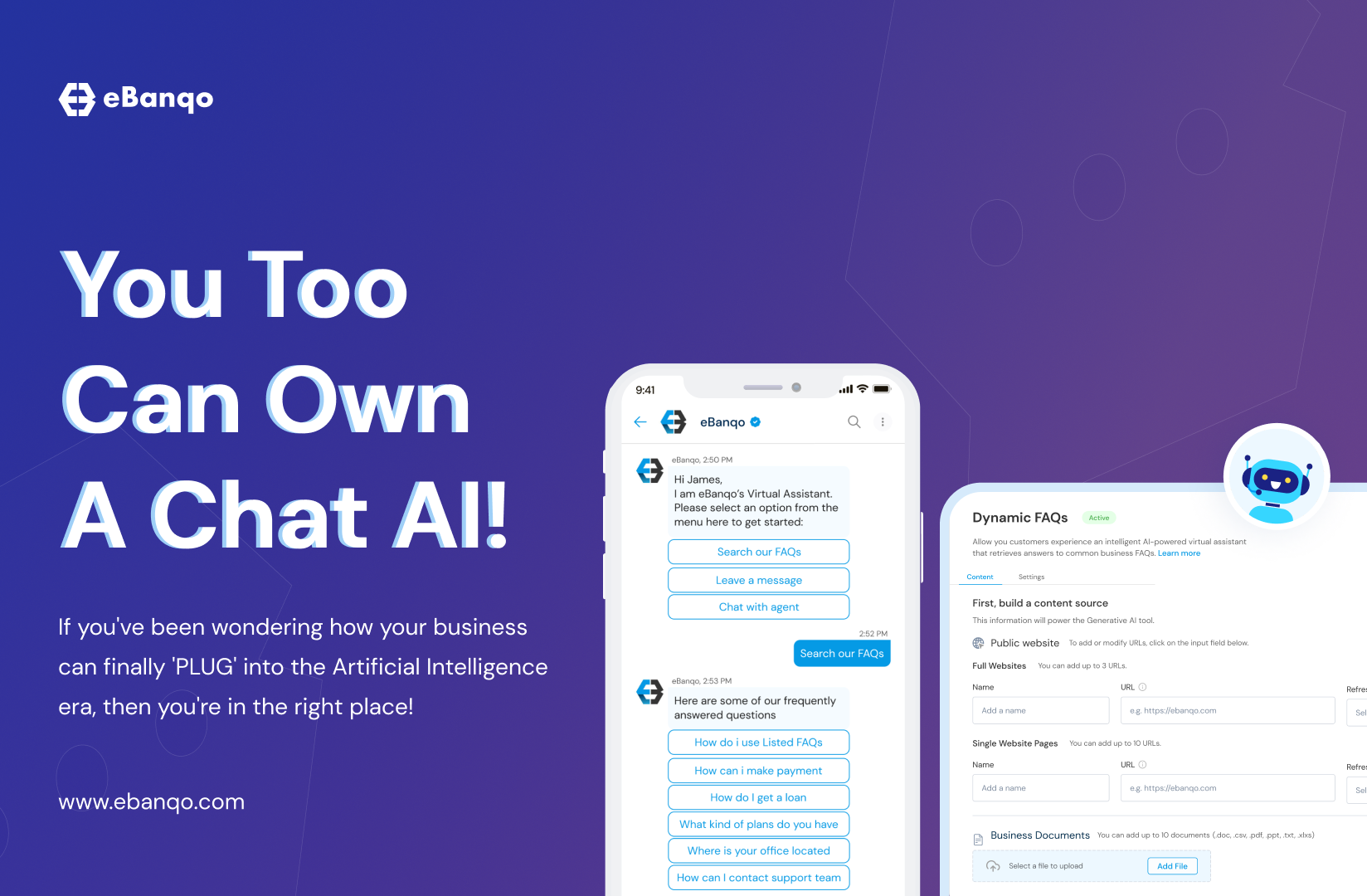 If you've been wondering how your business can finally 'PLUG' into the Artificial Intelligence era (Chat AI), then you're in the right place!
In the past year, AI has thoroughly transformed the business landscape, enabling businesses ranging from SMEs to Unicorns to automate tasks, improve efficiency, and provide personalised experiences to their customers.
However, implementing AI solutions often comes with significant costs and technical barriers, especially for SMEs and Startups. Recognizing this challenge, eBanqo chat aims to democratize AI by giving every business their own 'ChatGPT'. Walk with us…
We know that the concept of having an AI-powered chatbot tailored specifically to your business needs may sound like a luxury reserved for the big players in the industry. However, eBanqo aims to change that perception.
This is how.
With our latest product, we have bridged the gap in communication between customers and businesses.
Say hello to eBanqo Chat, a customer-business engagement app that aims to bring a change in the way you communicate and resolve issues for your customers. The eBanqo Chat enables customers to discover your business, get the information they require, and have their queries promptly resolved.
With eBanqo Chat, we make AI accessible and affordable for businesses of all sizes, empowering them to leverage the benefits of AI without breaking the bank. Every business owner must get a taste of this ease!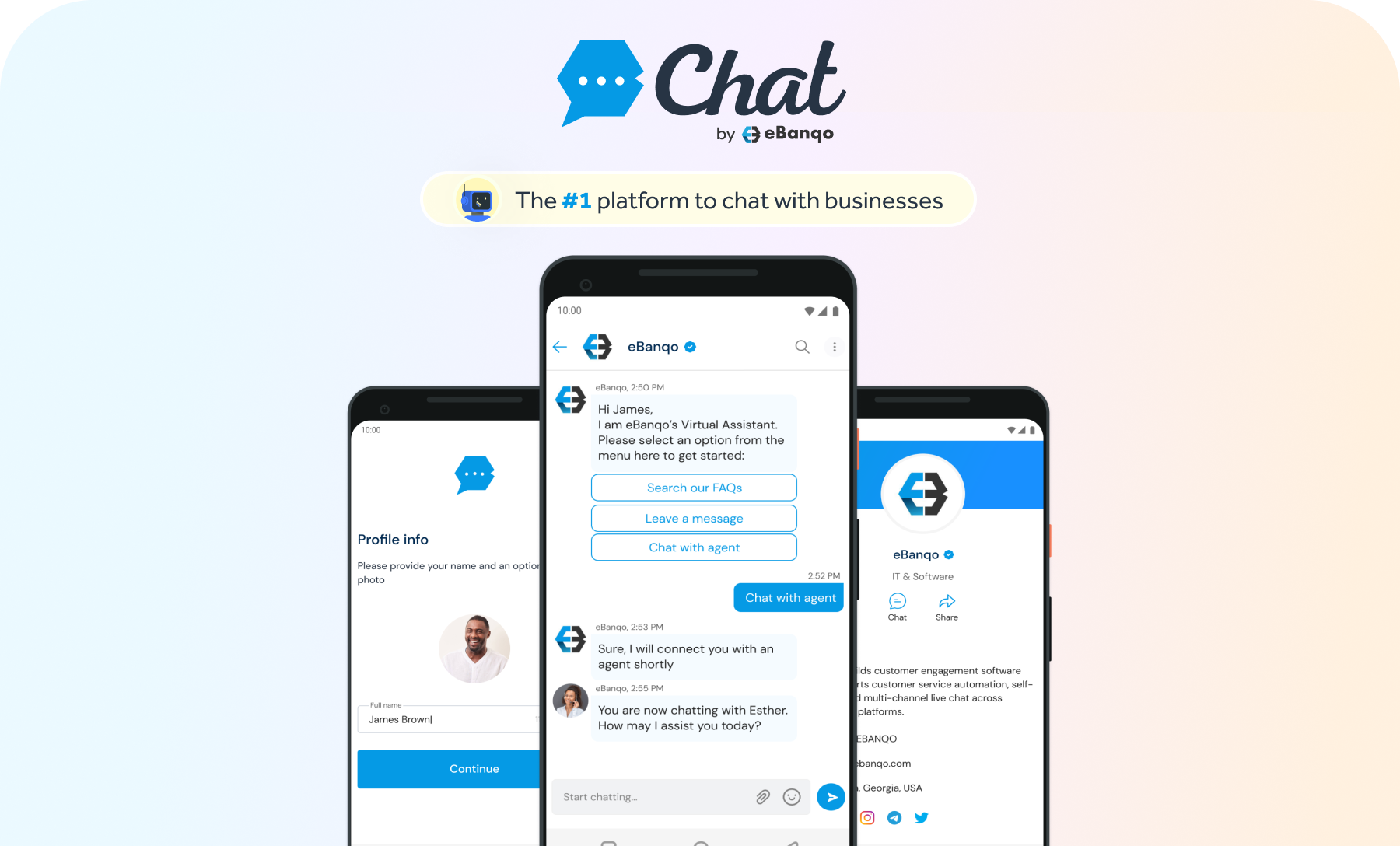 Dynamic FAQs: The Sherlock Holmes of Customer Queries
The Dynamic FAQs feature of eBanqo Chat is like a business's personal ChatGPT. Let us explain further…
An alarming number of customers have often said that the most frustrating part of poor customer service is not only "being unable to receive instant responses" but also the lack of knowledge of some customer support representatives in providing the necessary information to them. So how can eBanqo Chat help with this?
With its unique core feature; Dynamic FAQs.
Dynamic FAQs is an advanced FAQ Bot offered on eBanqo Chat that utilizes the same technology as ChatGPT to provide accurate answers to customer questions from several data sources – website, multiple communication channels, or blog sites.
This feature serves to offer your clients a seamless means of "finding all there is to know about your business".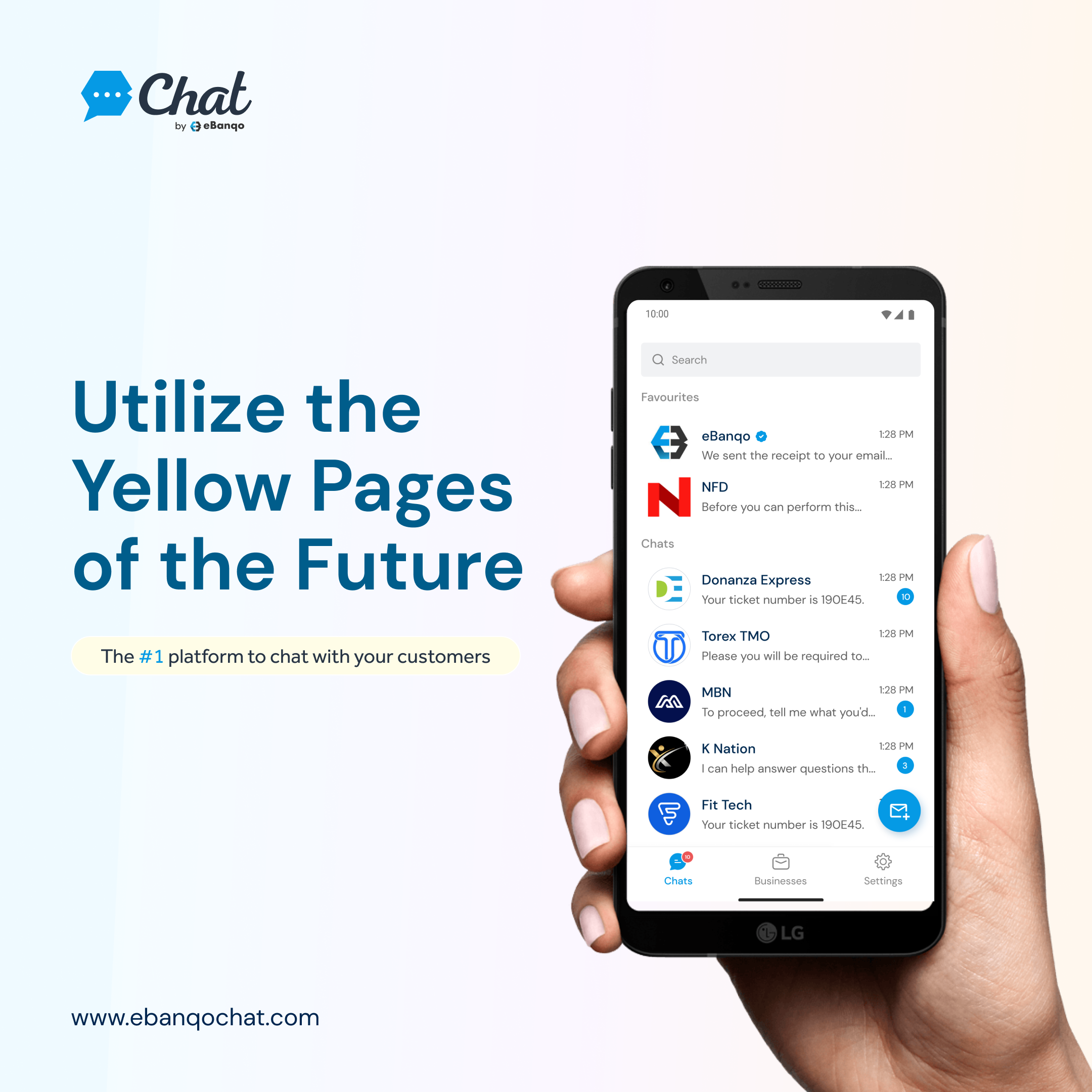 Superpowers for Customers and Businesses
eBanqo Chat makes it easy for customers to find and engage with businesses. After all, we're all "customers" of one business or the other.😉 Here are a few things we're glad to show you!
For Business Customers, we've got your back
Are you tired of being treated like just another faceless customer in the crowd? eBanqo Chat, along with its Dynamic FAQs feature, is here to make a difference.
This powerful tool provides businesses with the means to be more accessible, and responsive. No more long wait times or endless searching for answers or impersonal interactions. With eBanqo Chat, you'll be the highest priority and feel like your favourite business truly has your back – becoming as close as family.
One-stop central mobile and web app for all your business inquiries: It makes multitasking effortless. With eBanqo Chat you can chat with as many businesses as you want.
Dynamic FAQs for instant answers: Just like we've said before, you'll be able to get instant answers to all your inquiries without searching by yourself. With Dynamic FAQs, your questions can be answered without a prolonged wait time.
Report issues anytime, anywhere, and track resolutions like a pro: eBanqo Chat enables you to be able to report issues immediately, and be up to speed on their resolution progress.
Take control with self-service actions and transactions: You're able to mark your favorite businesses, perform self-service actions and carry out transactions all on eBanqo Chat.
For Businesses, You're in for a treat!
From small local shops to large-scale enterprises, eBanqo Chat ensures that every business including yours can harness the benefits of AI. No longer limited to industry giants, this technology democratizes access to AI-powered customer service, allowing businesses of all types to provide exceptional support experiences.
Reach customers on their terms, anytime, anywhere: Connecting with customers on their terms and at their convenience ensures a seamless experience that builds stronger relationships and enhances satisfaction.
Cut down wait times with self-service automation: Implementing eBanqo Chat and Dynamic FAQs can empower your customers to find solutions independently, reducing reliance on human assistance and improving efficiency.
Be found: Join the thousands of businesses that customers can connect with on eBanqo Chat (web or mobile). Provide detailed information about your business, the best way for customers to reach your business, and share your important value proposition.
Provide Instant Answers: Leveraging eBanqo's generative AI capabilities, your customers would be able to get answers to any technical, commercial, or support inquiries without searching through your website or speaking with anyone in your company.
Engage your customers, 24/7: Customer loyalty is crucial to businesses, and eBanqo Chat helps you build a stronger bond with your customers. Be reachable during and outside working hours, to show your customers that you genuinely care about them. Allow customers to perform transactions, report issues, leave messages, track the status of reported issues, or chat with someone in your organization.
Extend to other channels: eBanqo provides a consistent experience to your customers irrespective of which channel that they prefer. Your customers can chat with you on eBanqo Chat, or engage with your business on the web, mobile, Facebook Messenger, Instagram, Twitter, and Google's business messages.
Get started on eBanqo chat today!
eBanqo Chat is not your run-of-the-mill communication app. It's futuristic, inventive, and works to bridge the gap between customers and businesses like never before. With Dynamic FAQs in hand, ensure your customers never get left "on hold" when seeking answers.
Experience the world of "seamless communication" today by downloading the eBanqo Chat app from the App Store or Google Play.
We value your feedback, so don't hesitate to share your thoughts, ideas, and opinions at hello@ebanqo.com. Together, with your input, we can continuously improve and enhance the workability of eBanqo Chat.